A Note of Gratitude
To our Seattle Children's community – we are truly grateful for you. Every day, your generous support enables our doctors and nurses to provide the compassionate care each family needs for their child and our researchers to advance lifesaving cures for the most devastating pediatric diseases. 
Because of donors like you, thousands of families like Tiago's are receiving hope, care and cures. You are an essential part of the Seattle Children's family. Thank you for saying yes to kids and helping us care for every child.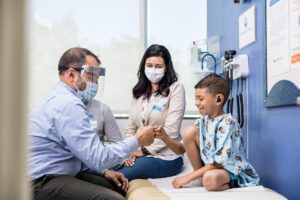 Two weeks after our son Tiago, then 2, complained of mysterious leg pains and had a fever, we listened through our sobs as Dr. Navin Pinto explained that our precious toddler had an aggressive type of cancer – stage 4 high-risk neuroblastoma.
but as we learned what it would take to beat his cancer, Dr. Pinto and the entire Seattle Children's cancer team gave us the hope we needed. They prepared us for the fear and the worry we would have for our little boy, and built our confidence in their expertise and commitment to Tiago's comfort. It turns out, Tiago's doctors developed many of the treatment protocols, now use around the country, for exactly his type of cancer right in the Seattle Children's research labs.
Today, our son Tiago is excelling in the second grade and loves to play with Legos.
If your reading our words right now, you must be part of Seattle Children's generous community – and we thank you from the bottom of our hearts for giving to this hospital and for all the care we received.
– Conan and Geo Viernes, Tiago's parents